Founder of Ambassadors of Christ Ministries Autobiography
The Beginning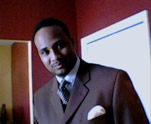 I—Tecko H. Green—founder of Ambassadors of Christ Ministries was born in 1968 in the city of Detroit Michigan. My parents are Eva and Ronald W. Green Sr. While my father was serving in the military during the Vietnam War, when I was two-years-old, I was taken to Jackson, Tennessee. There, I was raised by a legal guardian who was fifty-five years my elder. Mrs. Jessie Mea Harris (Mama Browny) raised me dually between Jackson, Tennessee and Gary, Indiana. I was raised with rich southern charm, character, and strong Christian beliefs. I still have that southern gentleman's charm today entwined with my strong Christian roots.
Even though my biological family did not raise me, I do have a close loving relationship with them. In fact, my dad is my best friend and my siblings are very close to me. My mother is also an encouraging source for me. My other source of encouragement, Mama Browny, passed in 2002 at the age of eighty-seven. I am so thankful for all that she did for me, as she was the foundational layer for me and she laid a sound and solid foundation.
Introduction to Christ Jesus
I was introduced to Christianity at a very young age. Mama Browny took me to church faithfully. She allowed me to make my own choice to follow Christ Jesus by never forcing me to accept Jesus. That did not include the choice of not going to church— going to church was mandatory.
I choose to accept Jesus Christ at a very young age. Without Mama Browny's knowledge, one Sunday when the pastor gave the invitation to accept Jesus Christ, I walked down to the front of the church answering the call of accepting Jesus as Lord of my life of my own accord at the tender age of eight.
Mama Browny told me that there would be a change in me from accepting Christ Jesus in my life. I expected and looked for the change with happy anticipation. It was evident that the change took form, for my walk became one that marched after the ways of Christ. At a young age, I took to reading the word of God. My childhood pastor would take me out of angelic choir rehearsal and sit me in his study. He would open his Bible and leave it on the desk for me to read. During those young years, sitting in my pastors' study at his desk, reading the word of God was where the foundation was deeply planted in me. During those times of reading, the word of God was like drinking milk. The word was so easy to understand and good to me. Those times of reading, and other church times, as well as Mama Browny's teaching me about how one should walk in the ways of Christ in love and surrendering only to God the Father, caused me to grow with a strong foundation of Christian beliefs.
The Call


By the age of twelve, it was evident that I was called to the ministry. I was a little different in that I would fall asleep on the singing in church and wake up when the preaching began. At home, I listened to a station out of Chicago, Illinois. WWCA, which was a Christian radio station, had preaching on twenty-four hours a day. I went to sleep at night listening to that station. That was very strange for a youngster. But I loved it. I loved and still love the word of God.
I knew I was called to ministry, but I was afraid to answer the call fully. I had two heroes as a child. They were Jesus Christ and Dr. Rev. Martin Luther King. My thoughts, as a youngster, were that since both of my heroes died young, if I were to answer the call, that, too, would be my own destiny. I did not want to die young and so I hesitated in taking those steps out to fulfill the call on my life because of those fears. I desired to be married and see my grandchildren. Therefore, I ran from the call for many years. I served in many areas, but did not want to lead and step out into preaching--even though I did do it from time to time. Every area I'd worked in, it seemed I gravitated toward some form of a leadership position. But I still would not give in fully for my fear of dying young.
What broke the running from my call was an evangelistic meeting I attended. In this meeting, the evangelist was raising funds to support an educational program. That is something that is dear to my heart and I contributed to the cause. The evangelist prayed over me, but then while standing over me, she said "Preach, young man, preach." At that time, I did not like hearing those words. It was something I'd heard often. It seemed like no matter where I was or where I would go, many men and women of God would come up to me and say to me something like, "Many are called, but few are chosen." Even to this day, I believe that at least one of those times it was not a man but an angel encouraging me to answer the call. The Bible does speak in Hebrews 13:2 (KJV) to Be not forgetful to entertain strangers: for thereby some have entertained angels unawares. But what truly broke the running was when this evangelist declared to me that I would not die a horrendous death. This was my reason for running from ministry. I feared being killed for ministry work. After that day, I surrendered fully to answering the call. With one condition: Which was that I would be taught first how to answer the call correctly. I am a man who believes in doing things right and in excellence with Godly wisdom and in a Godly loving manner. Before going to a Bible school, I had studied for years on my own and set myself apart to be shaped into the character and nature of my God. It was lonely at times, but, to me, it was well worth it. I am extremely mature for my age and know the word of God for myself. I do not proclaim to know everything, as I am always learning and will be learning until the day I die.
Preparation to Answer the Call

I formally prepared for ministry by attending Word of Faith Bible Training Center of Southfield, Michigan. There I served as student council class president and graduated with honors. I also gave the student charge to my fellow classmates at the graduation. I will never forget Bishop Keith Butler's words the night of graduation—that he could not have done much better himself. He made that statement concerning my address to my peers. That made me feel good, but I did not really realize what he had said until days later. My heart is not set to be the man, but rather, to be a Godly man. Therefore, I do not let flattery go to my head. But encouragement does help a person to keep going and sometimes gives one a much-needed boost.
I have served faithfully in other ministers' ministries. I served with Night Street Evangelism, which started or began at ten pm and continued until two am, witnessing on the streets of Detroit. I have served as a follow-up member—that is a person who makes calls and allows calls to come to them from and for new followers of Christ. I have served as a leader in children's church. In the area where I served, we would have three to four hundred kids in the age group of seven to nine years old on any given Sunday. I have served as a leader in Children's Outreach Hospital Ministry, as a leader in Youth Outreach to detention centers, and as a leader in Young Adult Cell Group Outreach, groups that met in homes for Christian development and fellowship.
I did not start preparing for my service to the body of Christ when I started a formal schooling. It has been a lifetime of learning: Learning who I am in Christ and how to serve others in the love and wisdom of God. I have been saved and have served others for over twenty five years. Yet I believe you never stop learning how to do what you are called to do. Forever growing and forever learning is what I believe.

Answering the Call
The call on my life has been with me as long as I can remember. Many things have shaped me to answer this call. From my military training where I served in leadership positions from being a color guard commander, team leader to serving as instructor in training programs. I am a proud military veteran with training in compact engineering and military police. I have a few awards and decorations from serving my country— some from serving during Desert Storm. My many job experiences in management and dealing with people have trained me for my calling. The dedication to learning the truth of God's word has prepared me for what God has called for me to do. Understanding that every thing I do must be done in accordance to Godly love and according to Godly wisdom.
My Call
My call is to empower others with understanding that they can and should live a victorious life. My call is to present the truth of God's word in a way that those who say church is not relative can see it is not the church but the wisdom of God that is relative. My call is to fill the void of those who desire to get closer to God but who are tired and frustrated of being told what to do and being put down as people. I do not believe you can build someone up by tearing him or her down first. We are to build each other up, not tear each other down. As a minister of God and a regular person, I understand that I must operate the way that God operates. God in His word sets before us the ways that produces blessing and tells us to choose that way. Therefore, giving us the choice to make for ourselves if we want to take it or not. As a minister of God, I, too, must operate that same way. I must present to this world God's ways that produce blessings and let them chose if that is what they want. Not offending people in the process of my presentation but by operating myself in a Godly way which draws others to Christ but do not chase them away from Jesus.
My call requires for me to operate, not as one who has lordship over others, but as their servant in helping them to find their way. For the Scriptures tells us in Mark 10:42-44 that, "Jesus called them to him and said unto them, Ye know that they which are accounted to rule over the Gentiles exercise lordship over them; and their great ones exercise authority upon them. But so shall it not be among you: but whosoever will be great among you, shall be your minister: And whosoever of you will be the chiefest, shall be servant of all". I am called to minister the ways of God so that those who desire to follow God can strive to be perfected believers. I am called to minister for the purpose of aiding in bringing many into unity of the faith and knowledge of the Son of God, so that they are not tossed to and fro and carried about with every wind of doctrine by the sleight of man being confused by the tricks of man. But by speaking truth in love, they may grow up in Christ so that they can supply their purpose for which Christ created them in this world. I understand that it takes all of us and that every joint (every person) has an assignment to complete in order to make this a better world. I am only here to help bring out the talents that are within others so that they can achieve what God has designed them to achieve. They are God's and not mine. I am only an instrument used by God to help cultivate others by serving them. That serving is teaching others who they are in Christ Jesus and how to operate in a Godly manner in this world that He has created.
I am here to serve and it is my pleasure to serve you.
Ambassador of Christ
Tecko H. Green